Our strategy and business model
Our ambition is to provide customers with financial freedom and security by being the best provider of long-term savings and insurance. We deliver sustainable solutions adapted to the customer's individual situation.
Strategy 2021-23:
Leading the Way in Sustainable Value Creation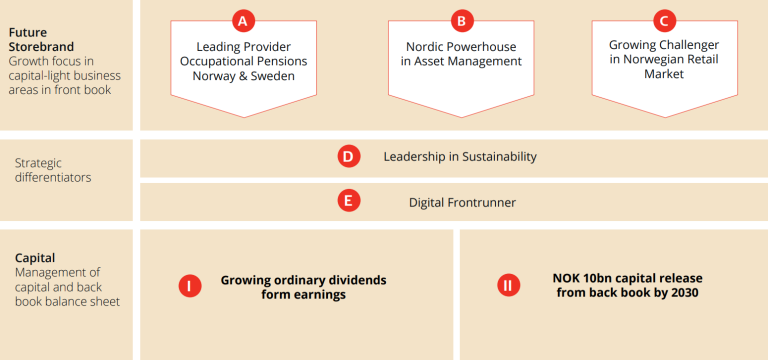 Storebrand aims to help customers achieve financial security and freedom by offering long-term savings and insurance solutions. Our goal is to deliver sustainable solutions tailored to the customer's individual needs, so that customers can receive the best possible pension in a more sustainable world. This is how we create value for customers, shareholders, and society.
Storebrand follows a two-fold strategy that provides an attractive combination of self-funded growth within what we call the "Future Storebrand", and capital release from the guaranteed pensions business which is in run-off.
Storebrand aims to:
(A) be the leading provider of occupational pensions in both Norway and Sweden;
(B) continue a strategy of building a Nordic powerhouse in asset management;
(C) ensure rapid growth as a challenger in the Norwegian retail market for financial services.
The interaction between our business areas provides synergies in the form of capital, economies of scale, and value creation based on customer insight. As announced on the capital markets day in December 2020, our ambition is to deliver a group profit (before amortisation and tax) of approximately NOK 4 billion in 2023.
We believe the only way to secure a better future is to take part in creating it. We seek to actively use our position to (D) lead the way in sustainable value creation and to differentiate ourselves from competitors.
Storebrand offers financial products, services, and customer experiences. Based on an increasingly advanced technology platform, we offer a fully digital business and distribution model. Our position (E) as a digital frontrunner will be a critical success factor in strengthening our competitiveness in the years to come.
We aim to both (I) grow the ordinary dividend from our earnings and to (II) ensure capital-efficient management of older products with interest rate guarantees. Our goal is to release an estimated NOK 10 billion of capital by 2030.
To learn more about the strategy and business model, please view the presentation from our Capital Markets Day in December 2020.
For more detailed information about our products and their result generation, please see our comprehensive guide for investors and analysts: